Some thoughts which may be helpful to other metadata purists. The music player of my choice, Rhythmbox, uses the ARTIST, ALBUM, TITLE and TRACKNUMBER tags in Ogg Vorbis and FLAC files to order music by artist and album with the correct track and order. A lot of albums have multiple discs, which until recently I have handled by appending "(CD1)" or something similar to the ALBUM tag. In Rhythmbox, it looks like this: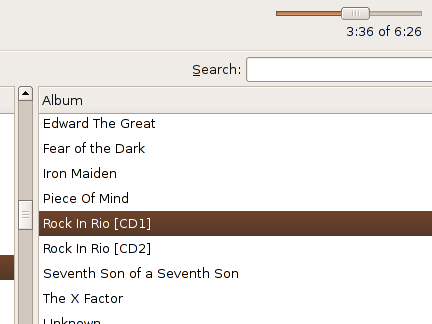 After some investigation I found that some players (including Rhythmbox) and tag editors have support for a DISCNUMBER tag. I edited my tags using easytag which isn't great but still the best Free tag editor I know of. I've had some issues with the DISCNUMBER tag mysteriously disappearing, but have been unable to reproduce the bug in the latest version of easytag. In any case, I changed the ALBUM tag to "Rock In Rio" and added DISCNUMBER tag with a value of 1 or 2. Rhythmbox now shows only one album entry and puts the tracks in the correct order: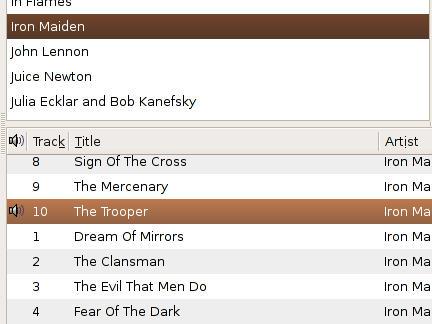 However, there is still one problem which is unresolved. Some albums have names for each disc. One example is Mellon Collie and the Infinite Sadness by The Smashing Pumpkins where the first disc is called Dawn to Dusk and the second Twilight to Starlight. Googling didn't turn up anything so I decided that a DISCTITLE tag would be a good idea and proceeded to add those tags where needed (using metaflac). The disc title is not shown in Rhythmbox and I am not sure what might be a good way of presenting it. A DISCTOTAL tag might also be useful for storing the number of discs in the set, although I haven't used it myself.
A recent google search turned up a slimdevices.com forum thread where the DISCNAME tag was suggested. To my knowledge it is not supported by any software. I think that DISCTITLE is better because it is consistent with the TITLE tag, but if either were agreed upon that would be great. Adding support for the tag to easytag would be easy, but without any idea of how the tag might be used a patch would probably be rejected.
Update 2006-04-29:
I've discovered MusicBrainz. I love MusicBrainz. You love MusicBrainz. MusicBrainz mandates the use of "(disc x)", or "(disc x: disc title)" for multi-disc albums. This brings back my unpretty Rhythmbox album listing, but the benefits of MusicBrainz far outweigh this nuisance. Use MusicBrainz.