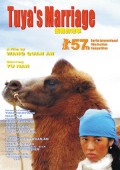 Today I went to the cinema to see Tuya's Marriage (图雅的婚事), the film that won the Golden Bear at the Berlin International Film Festival in February. The film is set in Inner Mongolia and revolves around the willful and witty Tuya. Since the spoken language is not so standard Mandarin and I watched this with only Chinese subtitles I might not be clear on all the details, but the story goes something like this: Tuya's husband Bater is bound to a wheelchair and can't help with the family's sheep or do any other useful work. Out of pity for his wife, Bater wants to divorce so that Tuya can find a man who can better care for her and the two children. However, Tuya cares very much about Bater and will only accept a proposal if the the new husband also agrees to care for him. There are several proposals and the developments that follow put quite an emotional pressure on both Tuya and Bater.
Looking at the poster, I expected this film to be a serious act shot in gray and brown colors. To my surprise the dialogue is often witty, especially on the part of Tuya. The characters and their words still linger in my mind after leaving the cinema, which is certainly not true of all films. The cinematography isn't bad either, making the dull plains of Inner Mongolia more interesting than they probably are. If Tuya's Marriage comes to your country (in the cinemas or on DVD) don't miss it!

What a few Chinese bloggers are saying:
Tuya should love Bater, but if she really does why does she divorce him? [...] This kind of sacrifice doesn't seem to have any meaning.
Tuya's Marriage [...] has none of the tiring sour narcissistic quality of some of the sixth generation director's so called art films.
Wang Quanan displays his outstanding control over the medium. He can make the audience cry, for example when...