This plugin is now hosted at wordpress.org. It is not being maintained as I am no longer running my own WordPress installation. Please contact me if you want to take over development.
I've written a wordpress widget to put AddThis buttons in your sidebar. This is a convenient way for visitors to subscribe to your feed or bookmark your pages without cluttering the sidebar with a gazillion buttons for all the different feed readers and social bookmark sites.
Installation:
For WordPress 2.0/2.1, first install the widgets framework.
Download the plugin and unzip it in wp-content/plugins.
Activate AddThis Sidebar Widget in the plugin configuration panel.
Visit the widgets configuration panel and drop one or both of AddThis Subscribe and AddThis Bookmark into your sidebar.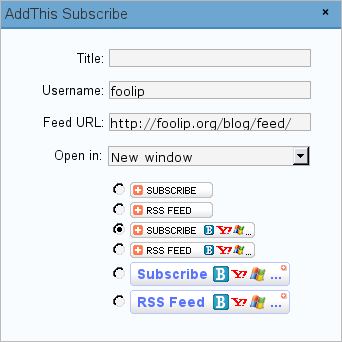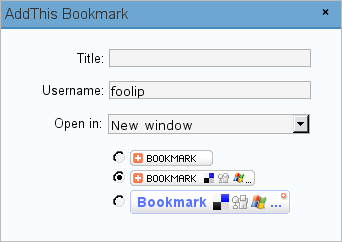 Widget configuration is pretty self-explanatory. You will most likely want to leave the title blank. If you want stats from AddThis, enter your username. The AddThis page can be opened either in the current window, in a new window or in a JavaScript popup.
You can see the widget in action right here in my sidebar. If you use it on your site or have any problems, please leave a comment/trackback.
History: