So you've learned some Chinese, seen a few Zhang Yimou movies and now you want to see what Chinese music has to offer? In this article I'll share some experiences on how to find and download Chinese music. "Chinese" is used in the broadest possible sense – including music from mainland China, Taiwan, Hong Kong, Macau and overseas communities performed in any Chinese dialect.
Anyone who has ever tried finding Chinese music on English language file-sharing networks knows that it is a pointless exercise which will fail 98% of the time. Therefore, I will cover only on the Chinese language alternatives and we will be searching using Chinese. This means that if you can't read any Chinese you're going to have a hard time following this guide.
As an example in this article we'll be looking for music by Jay Chou, the unchallenged king of mandopop. If you only know the artist's "English" name then Wikipedia will usually be of help; from the Jay Chou article we learn that his name is 周杰倫 in traditional Chinese and 周杰伦 in simplified. The distinction between traditional and simplified Chinese is sometimes important, as I will point out below.
Baidu MP3
Baidu is a mainland China search engine with a large number of services and a very strong standing in the local market. One of those services is Baidu MP3, which indexes music files on the web. This might sound illegal somehow but it isn't and it shouldn't be under any sane copyright regime. However, western countries' copyright regimes are increasingly insane and our record labels have gotten used to bullying others into doing as they want. Presumably in order to stay off their radar Baidu MP3 sometimes block searches from outside China. If you're not in China and can't find any music when following the below instructions, skip ahead to the proxy section.
Now let's get down to business. Baidu MP3 is a great place to start when you want quick results and quality is not critical. Go to http://mp3.baidu.com/ and you'll see something like this:

Just enter the enter the artist name (周杰伦) in the search box. Baidu is clever enough to understand either traditional or simplified Chinese, but the results will always be in simplified Chinese as it's a mainland service. If you're only interested in MP3 files, select the "mp3" option. The search results will look something like this: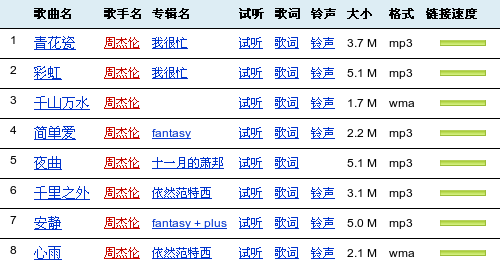 From left to right, the columns are:
歌曲名 song title (e.g. 青花瓷) – click this to download an individual track
歌手名 artist name (e.g. 周杰伦) – browse the artist discography and most popular songs
专辑名 album title (e.g. 我很忙) – show the full track listing for the album
试听 sample – listen without downloading (not very useful)
歌词 lyrics – useful, but Mojim.com is better
铃声 mobile ringtone – you probably don't want this
大小 file size – bigger usually means better quality
格式 file format – use mp3 for portability, you don't want wma or rm
链接速度 connection speed – the more the merrier
In the simplest case you simply click on one of the songs and start downloading, but you often need to try a few different servers before finding a file of acceptable quality and download speed. The artist and album pages are useful for exploring new artists, but I would advise against collecting full albums from these listings as the files would be of uneven quality and have inconsistent metadata (ID3 tags).
The 歌曲TOP500 (top 500 songs) is also well worth mentioning. The chart is based on the number of downloads and is – due to the service's popularity – arguably the best measure of what's hot in China right now. Other useful top charts include 新歌TOP100 (top 100 new songs) and 歌手TOP200 (top 200 artists).
See also Sinosplice for an older Baidu MP3 guide.
Chinese Proxy Server
If you find that you can't get any search results from Baidu, I would suggest first trying one of the other methods below. However, in the rare case where you really need Baidu, you can still do it no matter where you are geographically. Just like many Chinese netizens use proxy servers to get out of China, we can use a proxy server to get in to China. I've been able to use Baidu MP3 using web proxies from mainland China, Taiwan and Korea. Others may work too, so finding and configuring a proxy which works for you shouldn't take more than 5 minutes.
Do note that the only place where you actually need a proxy is when searching. When downloading you aren't connecting to Baidu so you can get much better speed if you turn the proxy off. As this requires switching the proxy on and off repeatedly, I suggest using a browser/extension which makes this convenient. In Opera you can use Tools>Quick Preferences>Enable Proxy Servers (or F12+r) to toggle the proxy. Using Firefox+FoxyProxy it seems that you can use a proxy only for mp3.baidu.com, which is even better.
Again, if using a proxy seems like a lot of trouble, just keep reading for some other services which may serve you better.
VeryCD
When I had been in Beijing for only a few days I was at a meet-up for new expats and friendly Chinese. I got on the topic of music with a Chinese guy and he soon suggested that I visit VeryCD. That was in 2006, and VeryCD is still the file sharing portal in China. It indexes files on the eDonkey network and just about everybody seems to use it.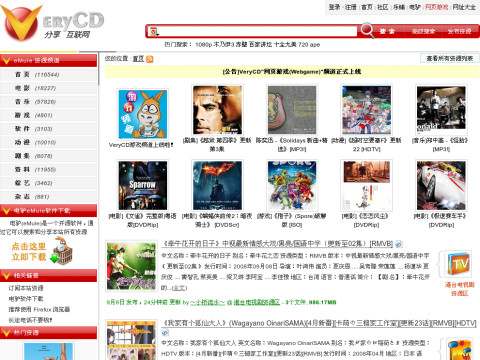 It's quite easy to use VeryCD: just type the artist name at the top and search away. Unlike Baidu, VeryCD doesn't handle traditional Chinese very well, so make sure that you're copying/inputting simplified Chinese or you may not find what you're looking for. Except for that, the search box is very clever and will even suggest additional search terms as you type.
As an example let's look for Jay Chou's 2006 album Still Fantasy – 依然范特西. Searching for 周杰伦 依然范特西 will find the album in both MP3 and APE format, as well as a bonus DVD, karaoke videos, etc. Jay Chou is exceptionally popular so the results won't always be this good, but you'll almost always be able to find something. Go to any of those results and you'll find a box like this:

These are the files you are looking for, but since VeryCD is just a fancy index for the eDonkey network you need an eDonkey client to actually download anything. I recommend aMule for all operating systems except Windows, where eMule might be better. After you've installed the client, simply clicking on the links should add the files to your download queue. Usually aMule will be able to find a peer sharing the file in question and start downloading. It's not always fast, but it will finish in the end if you're patient. Here I've downloaded and extracted the 320 kbps version: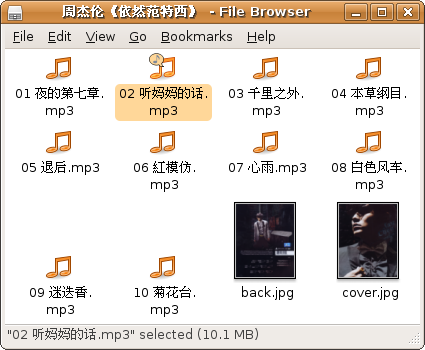 Basically, that's all there is to it. One nice feature worth mentioning is that VeryCD provides RSS feeds for all pages, including categories and search results. For example, you can subscribe to the Chinese music category or Jay Chou search results, which is very useful for staying up to date with very little effort. Paradise for the music fanatic!
Kad
Now that you have aMule/eMule installed, there is another method well worth mentioning. Kad is a distributed network for indexing and searching eDonkey files. If you can't find what you're looking for on VeryCD, try using aMule/eMule to search in the Kad network. In the search view, select type "Kad". You also need to pay attention to traditional/simplified Chinese as there is no automatic conversion. I suggest doing one search in traditional and one in simplified to cover all the options.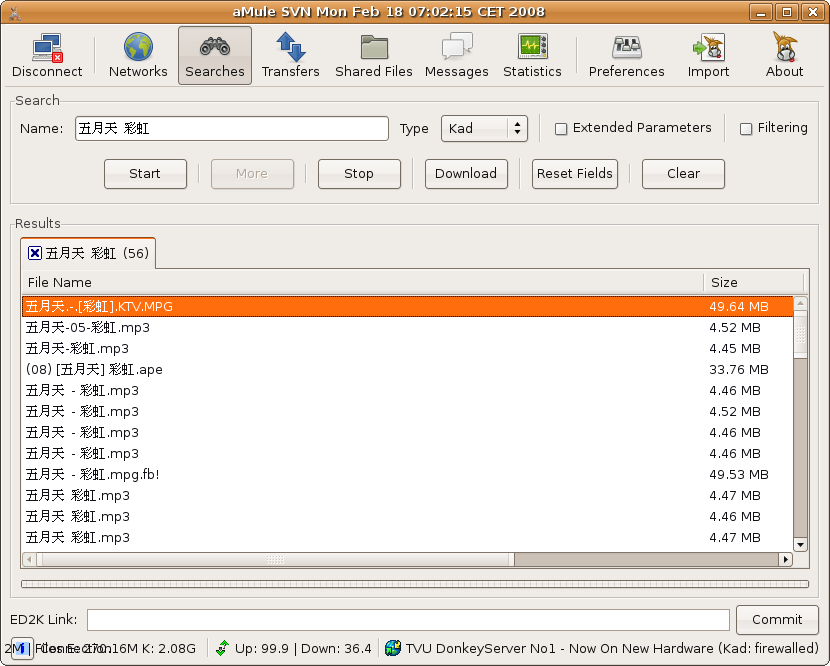 Here I've found a karaoke (KTV) version of a song I like. Even for things that you can find on VeryCD, searching the Kad network will sometimes give you better quality or alternate versions. If you find an album in both a mainland version (大陸版/大陆版) and a Taiwan version (台灣版/台湾版) get the Taiwan release as mainland releases are often bastardized by removing/renaming tracks to please the censors. Hong Kong versions (香港版) sometimes contain Cantonese bonus tracks, which might be nice.
Recommendations
You shouldn't have any problem finding music now, but if you don't know where to start I can recommend a few of my favorite artists:
The list could go on, but if you don't trust my taste in music (who would?) do have a look at Baidu's top 200 artists to see what people in China are listening to instead.
Tagging
The variations in character encodings, translations, romanizations, mixture of traditional and simplified Chinese and plain errors that you can find "in the wild" makes it necessary to clean up the tags (metadata) of your files. Unless you do this it's going to be a mess when you want to play your music in a player which uses the tags to sort things (as many portable players do). The best tool for consistent tags that I know of is MusicBrainz, even though far from all Chinese music is in the MusicBrainz database. Still, it is better than trying to fix everything by hand and you'll probably want to use it for all your non-Chinese music anyway.
That concludes this guide. I hope that it makes sense and that it will be of use.